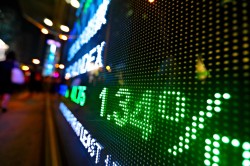 Arix Bioscience (LON:ARIX)'s stock had its "buy" rating reissued by analysts at Jefferies Financial Group in a research report issued to clients and investors on Tuesday. They currently have a GBX 288 ($3.76) price objective on the stock. Jefferies Financial Group's target price suggests a potential upside of 78.88% from the stock's current price.
Shares of LON ARIX opened at GBX 161 ($2.10) on Tuesday. Arix Bioscience has a fifty-two week low of GBX 169.50 ($2.21) and a fifty-two week high of GBX 220 ($2.87).
About Arix Bioscience
Arix Bioscience plc, formerly known as Perceptive Bioscience Investments Limited, is a venture capital firm specializing in seed, startup, early stage, mid venture, late stage, growth capital investments as well as private and public equity. The firm seeks to invest in medical innovation comprising healthcare and life sciences.
Featured Article: Institutional Investors
Receive News & Ratings for Arix Bioscience Daily - Enter your email address below to receive a concise daily summary of the latest news and analysts' ratings for Arix Bioscience and related companies with MarketBeat.com's FREE daily email newsletter.