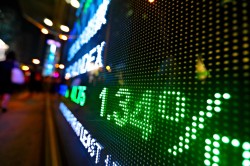 Highpower International (NASDAQ:HPJ) will issue its quarterly earnings data before the market opens on Thursday, March 28th.
NASDAQ:HPJ opened at $3.25 on Thursday. Highpower International has a 1-year low of $2.07 and a 1-year high of $4.00. The firm has a market capitalization of $50.41 million, a P/E ratio of 3.68 and a beta of 1.89.
Separately, TheStreet raised shares of Highpower International from a "d+" rating to a "c-" rating in a research note on Friday, February 8th.
ILLEGAL ACTIVITY WARNING: "Highpower International (HPJ) Set to Announce Earnings on Thursday" was first posted by Highlight Press and is owned by of Highlight Press. If you are reading this story on another publication, it was copied illegally and reposted in violation of international trademark & copyright law. The legal version of this story can be accessed at https://highlightpress.com/2019/03/21/highpower-international-hpj-set-to-announce-earnings-on-thursday.html.
About Highpower International
Highpower International, Inc, together with its subsidiaries, produces and sells nickel-metal hydride (Ni-MH) rechargeable batteries. The company operates in three segments: Lithium Business, Ni-MH Batteries and Accessories, and New Material. It offers Ni-MH rechargeable batteries in AA, AAA, 9V, C, D, and SC sizes in blister packing, as well as chargers and battery packs.
Featured Story: What is a portfolio manager?
Receive News & Ratings for Highpower International Daily - Enter your email address below to receive a concise daily summary of the latest news and analysts' ratings for Highpower International and related companies with MarketBeat.com's FREE daily email newsletter.