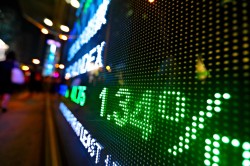 IMV (NYSE:IMV) will release its earnings data before the market opens on Friday, March 22nd. Analysts expect IMV to post earnings of ($0.07) per share for the quarter.
IMV opened at $4.14 on Thursday. IMV has a 52 week low of $4.00 and a 52 week high of $7.21.
Several research firms have commented on IMV. Raymond James set a $10.00 price objective on IMV and gave the stock an "outperform" rating in a report on Wednesday, January 30th. Zacks Investment Research downgraded IMV from a "hold" rating to a "sell" rating in a report on Tuesday, January 29th.
COPYRIGHT VIOLATION WARNING: "IMV (IMV) Set to Announce Earnings on Friday" was published by Highlight Press and is owned by of Highlight Press. If you are reading this story on another site, it was illegally copied and republished in violation of U.S. & international trademark and copyright legislation. The correct version of this story can be viewed at https://highlightpress.com/2019/03/21/imv-imv-set-to-announce-earnings-on-friday.html.
IMV Company Profile
IMV, Inc is a clinical-stage biopharmaceutical company, which engages in the development of cancer immunotherapies and infectious disease vaccines. The firm's patented platform, DepoVax, provides controlled and prolonged exposure of antigens and adjuvant to the immune system. The company was founded by Warwick Kimmins and Brian Lowe on March 28, 2000 and is headquartered in Halifax, Canada.
Read More: How Do You Calculate Return on Equity (ROE)?
Receive News & Ratings for IMV Daily - Enter your email address below to receive a concise daily summary of the latest news and analysts' ratings for IMV and related companies with MarketBeat.com's FREE daily email newsletter.