Knowles (NYSE:KN) is scheduled to release its earnings data after the market closes on Wednesday, April 24th. Analysts expect Knowles to post earnings of $0.05 per share for the quarter. Knowles has set its Q1 guidance at $0.09-0.13 EPS.Persons interested in participating in the company's earnings conference call can do so using this link.
Knowles (NYSE:KN) last released its earnings results on Thursday, February 7th. The communications equipment provider reported $0.37 EPS for the quarter, beating the consensus estimate of $0.29 by $0.08. Knowles had a net margin of 8.19% and a return on equity of 6.08%. The firm had revenue of $223.80 million for the quarter, compared to analyst estimates of $224.42 million. During the same period last year, the firm earned $0.40 EPS. The business's quarterly revenue was up 3.9% compared to the same quarter last year. On average, analysts expect Knowles to post $1 EPS for the current fiscal year and $1 EPS for the next fiscal year.
KN stock opened at $18.57 on Monday. The company has a debt-to-equity ratio of 0.13, a quick ratio of 1.59 and a current ratio of 2.57. Knowles has a 12 month low of $10.94 and a 12 month high of $19.29. The stock has a market capitalization of $1.69 billion, a price-to-earnings ratio of 23.21, a PEG ratio of 2.22 and a beta of 1.10.
In other news, CEO Jeffrey Niew sold 11,629 shares of the firm's stock in a transaction that occurred on Wednesday, February 20th. The shares were sold at an average price of $16.01, for a total value of $186,180.29. The transaction was disclosed in a filing with the SEC, which is available through this hyperlink. Over the last 90 days, insiders bought 2,739 shares of company stock worth $45,128. 3.70% of the stock is currently owned by corporate insiders.
Several research firms have commented on KN. JPMorgan Chase & Co. set a $15.00 target price on shares of Knowles and gave the company a "sell" rating in a report on Tuesday, April 2nd. Lake Street Capital reissued a "buy" rating and issued a $17.00 target price on shares of Knowles in a report on Monday, January 14th. ValuEngine raised shares of Knowles from a "hold" rating to a "buy" rating in a report on Friday, March 15th. TheStreet raised shares of Knowles from a "c" rating to a "b" rating in a report on Friday, February 8th. Finally, Zacks Investment Research lowered shares of Knowles from a "strong-buy" rating to a "hold" rating in a report on Wednesday, April 10th. One analyst has rated the stock with a sell rating, four have given a hold rating and four have assigned a buy rating to the company. Knowles presently has a consensus rating of "Hold" and an average price target of $17.21.
WARNING: This piece of content was originally published by Highlight Press and is the sole property of of Highlight Press. If you are accessing this piece of content on another domain, it was stolen and reposted in violation of United States and international copyright laws. The original version of this piece of content can be read at https://highlightpress.com/2019/04/22/knowles-kn-set-to-announce-earnings-on-wednesday.html.
Knowles Company Profile
Knowles Corporation designs, manufactures, and sells micro-acoustic, audio processing, and precision device solutions for the mobile consumer electronics, communications, medical, defense, aerospace, and industrial markets worldwide. It operates in two segments, Audio and Precision Devices (PD). The Audio segment designs and manufactures audio products, including microphones and balanced armature speakers, audio processors, and software and algorithms used in applications that serve the mobile, ear, and Internet of Things markets.
Featured Story: Understanding Market Liquidity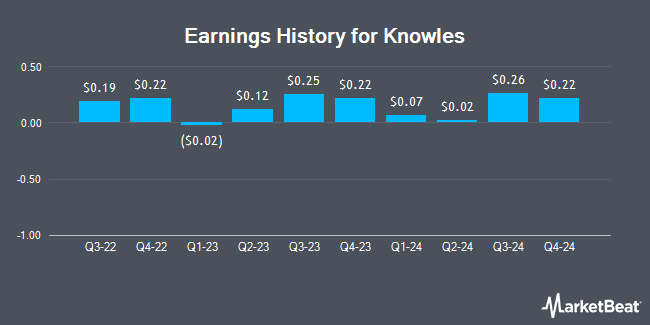 Receive News & Ratings for Knowles Daily - Enter your email address below to receive a concise daily summary of the latest news and analysts' ratings for Knowles and related companies with MarketBeat.com's FREE daily email newsletter.