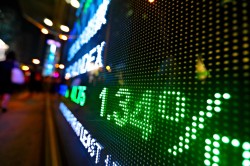 Microbix Biosystems Inc (TSE:MBX) Senior Officer Kenneth Hughes acquired 40,000 shares of Microbix Biosystems stock in a transaction on Monday, April 22nd. The stock was acquired at an average cost of C$0.25 per share, for a total transaction of C$10,020.00. Following the purchase, the insider now owns 125,000 shares of the company's stock, valued at approximately C$31,312.50.
Microbix Biosystems stock opened at C$0.25 on Tuesday. The company has a current ratio of 1.36, a quick ratio of 0.27 and a debt-to-equity ratio of 63.73. The firm has a market capitalization of $23.27 million and a price-to-earnings ratio of -2.78. Microbix Biosystems Inc has a 52 week low of C$0.16 and a 52 week high of C$0.34.
ILLEGAL ACTIVITY NOTICE: This piece was reported by Highlight Press and is the sole property of of Highlight Press. If you are accessing this piece on another publication, it was copied illegally and republished in violation of U.S. and international copyright & trademark law. The legal version of this piece can be viewed at https://highlightpress.com/2019/04/23/microbix-biosystems-inc-mbx-senior-officer-kenneth-hughes-buys-40000-shares.html.
Microbix Biosystems Company Profile
Microbix Biosystems Inc, a life science company, manufactures viral and bacterial antigens and reagents for the diagnostics industry worldwide. The company produces infectious disease antigens, including viral, bacterial, and parasitic products, which are used in various applications, such as immunodiagnostic assays comprising ELISA, chemiluminescent automated immunoassays, immunohistochemistry, immunofluorescence, latex agglutination, rapid tests, and flow cytometry; controls for diagnostic assays.
See Also: How Does the Quiet Period Work?
Receive News & Ratings for Microbix Biosystems Daily - Enter your email address below to receive a concise daily summary of the latest news and analysts' ratings for Microbix Biosystems and related companies with MarketBeat.com's FREE daily email newsletter.