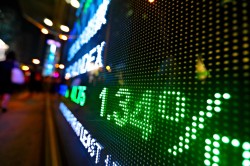 Jarvis Securities Plc (LON:JIM) insider Jolyon Christopher Head bought 4,477 shares of Jarvis Securities stock in a transaction on Thursday, June 6th. The shares were acquired at an average price of GBX 446 ($5.83) per share, for a total transaction of £19,967.42 ($26,090.97).
JIM stock opened at GBX 453 ($5.92) on Friday. The stock has a market cap of $49.38 million and a price-to-earnings ratio of 14.25. Jarvis Securities Plc has a 1-year low of GBX 410.01 ($5.36) and a 1-year high of GBX 520 ($6.79).
The firm also recently announced a dividend, which was paid on Thursday, June 6th. Shareholders of record on Thursday, May 16th were issued a dividend of GBX 6.50 ($0.08) per share. The ex-dividend date was Thursday, May 16th. This is a positive change from Jarvis Securities's previous dividend of $6.00. This represents a yield of 1.35%. Jarvis Securities's payout ratio is currently 0.75%.
ILLEGAL ACTIVITY NOTICE: This report was reported by Highlight Press and is the property of of Highlight Press. If you are reading this report on another website, it was illegally stolen and republished in violation of U.S. & international copyright law. The correct version of this report can be read at https://highlightpress.com/2019/06/09/insider-buying-jarvis-securities-plc-lonjim-insider-buys-4477-shares-of-stock.html.
About Jarvis Securities
Jarvis Securities plc, through its subsidiary, Jarvis Investment Management Limited, provides a range of stock broking services to retail and institutional clients in the United Kingdom. The company offers retail execution-only stockbroking services; ISA and SIPP investment wrappers; savings schemes; and financial administration, settlement, and custody services to other stockbrokers and investment firms, as well as to individuals.
Recommended Story: Leveraged Buyout (LBO)
Receive News & Ratings for Jarvis Securities Daily - Enter your email address below to receive a concise daily summary of the latest news and analysts' ratings for Jarvis Securities and related companies with MarketBeat.com's FREE daily email newsletter.