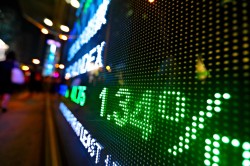 Edison Nation Inc (NASDAQ:EDNT) was the recipient of a large growth in short interest in the month of August. As of August 31st, there was short interest totalling 34,000 shares, a growth of 44.7% from the July 31st total of 23,500 shares. Approximately 1.4% of the company's stock are short sold. Based on an average daily volume of 22,500 shares, the days-to-cover ratio is currently 1.5 days.
A hedge fund recently bought a new stake in Edison Nation stock. Citadel Advisors LLC purchased a new stake in Edison Nation Inc (NASDAQ:EDNT) during the 2nd quarter, according to the company in its most recent Form 13F filing with the Securities and Exchange Commission. The firm purchased 15,618 shares of the company's stock, valued at approximately $36,000. Citadel Advisors LLC owned 0.27% of Edison Nation at the end of the most recent reporting period. Hedge funds and other institutional investors own 0.68% of the company's stock.
Shares of EDNT traded down $0.05 during midday trading on Friday, hitting $2.40. The stock had a trading volume of 34,089 shares, compared to its average volume of 37,998. The firm has a 50 day moving average of $2.22. Edison Nation has a twelve month low of $1.67 and a twelve month high of $7.83.
Edison Nation (NASDAQ:EDNT) last released its quarterly earnings results on Thursday, August 15th. The company reported ($0.30) earnings per share (EPS) for the quarter. The business had revenue of $5.97 million during the quarter.
About Edison Nation
Edison Nation, Inc, through its subsidiaries, primarily designs, manufactures, and sells various toy products directly to retailers or direct to consumers via e-commerce in North America, Asia, and Europe. It operates through two segments, Consumer Goods and Packaging Materials. The company produces battery-operated products for theme parks and entertainment venues; and party-related and arts and crafts-related items to retailers.
Further Reading: What does the Producer Price Index (PPI) tell investors?
Receive News & Ratings for Edison Nation Daily - Enter your email address below to receive a concise daily summary of the latest news and analysts' ratings for Edison Nation and related companies with MarketBeat.com's FREE daily email newsletter.